OGL, a participant of sustainable outdoor clothing brands, ethics has been our essential business function. While we are committed to making sustainable, zero-waste,  plastic-free and affordable sustainable clothing to minimize our social and environmental impact. We continue to remind ourselves that taking care of the Mother Earther also means taking care of the people on it too.
We value each and every person that manufactures our products. That's why we only work in close partnerships with suppliers that are like-minded. Our governance standards are outlined in our Suppliers Social and Environmental Responsibilities Guidance here, which follows the International Labor Organization's(ILO) standards on human rights. We only choose suppliers that fully follow the standards and Codes of Practice.
While we have the intention to partner with suppliers who share our same mission, we recognize that our first responsibility is to make our process as transparent as possible to our OGL community. We are honest about who makes our products, how our people are paid, what products are made from, and more. At OGL, our suppliers are ethically audited to make sure our standards are being met.
Code of
C

onduct

Our Code of conduct follows the standards outlined in International Labor Organization (ILO), which requires compliance with all laws wherever our suppliers operate. At each stage of our operations, from wood farm to garment factory, people who produce our sustainable women's clothes are monitored with these guidelines. With these ethical principles, we ensure that all the people who work with OGL are treated with respect as we guarantee living wages, safe working conditions, and fair treatment. We strictly require all of our suppliers to sign and adhere to the following guidelines, which sets out our expectations of working conditions. Topics we outline in the guideline include: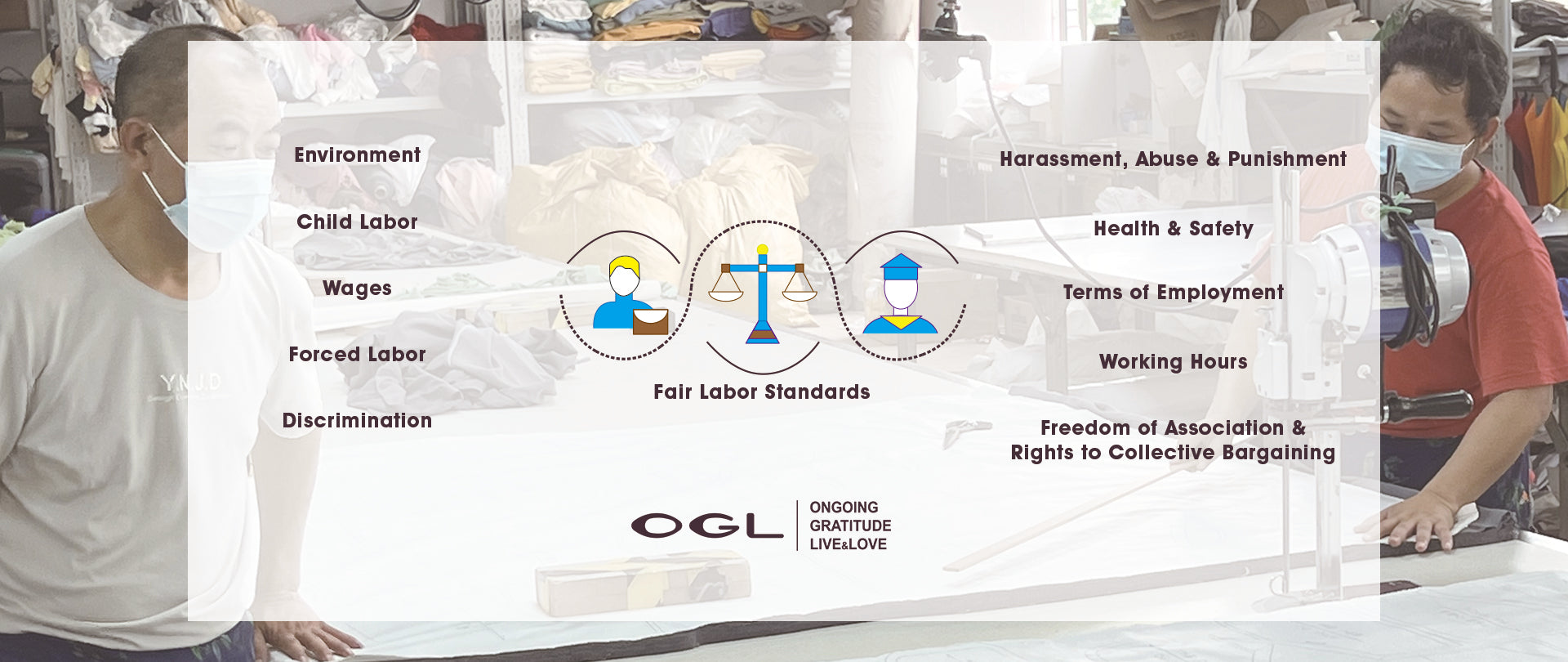 1.Environment
2.Child Labor
3.Wages
4.Forced Labor
5.Discrimination
6.Harassment, Abuse & Punishment
7.Health & Safety
8.Terms of Employment
9.Working Hours
10.Freedom of Association & Rights to Collective Bargaining
We know the fashion industry has a lot of answer for when it comes to taking care of our people and our Mother Earth. As a sustainable and eco-friendly outdoor women's clothing brand, OGL is always working on maintaing the best business practices for our OGL customers at every step we go. OGL is always doing everything we can to live up to SDGS's sustainable standards. Learn more about the sustainable standards here .  We apply the same values of transparency and respect in regard to nature and respect humanity when it comes to working with our suppliers.
Our code of conduct ensures everything we used is responsibly sourced, and people who work with us are working in a comfortable and safe environment. At OGL, we commit to being as transparent as we can to our community. As always, if there is anything we can ever do better, please reach us at service@oglmove.com