In 2020, our world changed. Facing an invisible threat, the CORONAVIRUS. A lot have change since then, we now have to protect our faces in order to grocery shop and walk among the general public. Simultaneously, our mindset has changed as well, we are paying more attention to the environment, health, our community and so much more. In short, we are sharing our love to the world. It has come to the second Christmas since the CORONA, for us, our first. This Christmas, we would love to share love actually is all around. 
At OGLmove not only we are able to supply the general public with the best apparels, we have also been able to create and provide jobs in the local community, on the other hand, we are hard at contribute in protecting the environment and support the community with the best of our ability. Over the year, our journey has had ups and downs, up until now, we conclude it as successful, and this could not be done without the support and commitment of our fans. Taking place this Christmas, we would love to share a few LOVE stories which memorable for us throughout the year.
From Scam to Being Legit
As a newly established sustainable fashion brand, the question of "Is OGL is a scam" has never stopped. It has become one of the biggest challenge that accompany us along the way, as we have to deal with this question almost everyday. But, this will never stop us from doing what we think is right. Over the year, our customer service team has done a fabulous job in answering customer requests in order to help our customer purchase with more confidence.
An incident that caught our attention was that on Nov 9th, our customer Hannah has complained us on Paypal after purchase with us, in relation to "OGL is a scam". Our customer service team helped Hannah out at the first place patiently and gained her trust throughout the process. In the end, Hannah got a satisfying shopping experience and made some good comments about our brand.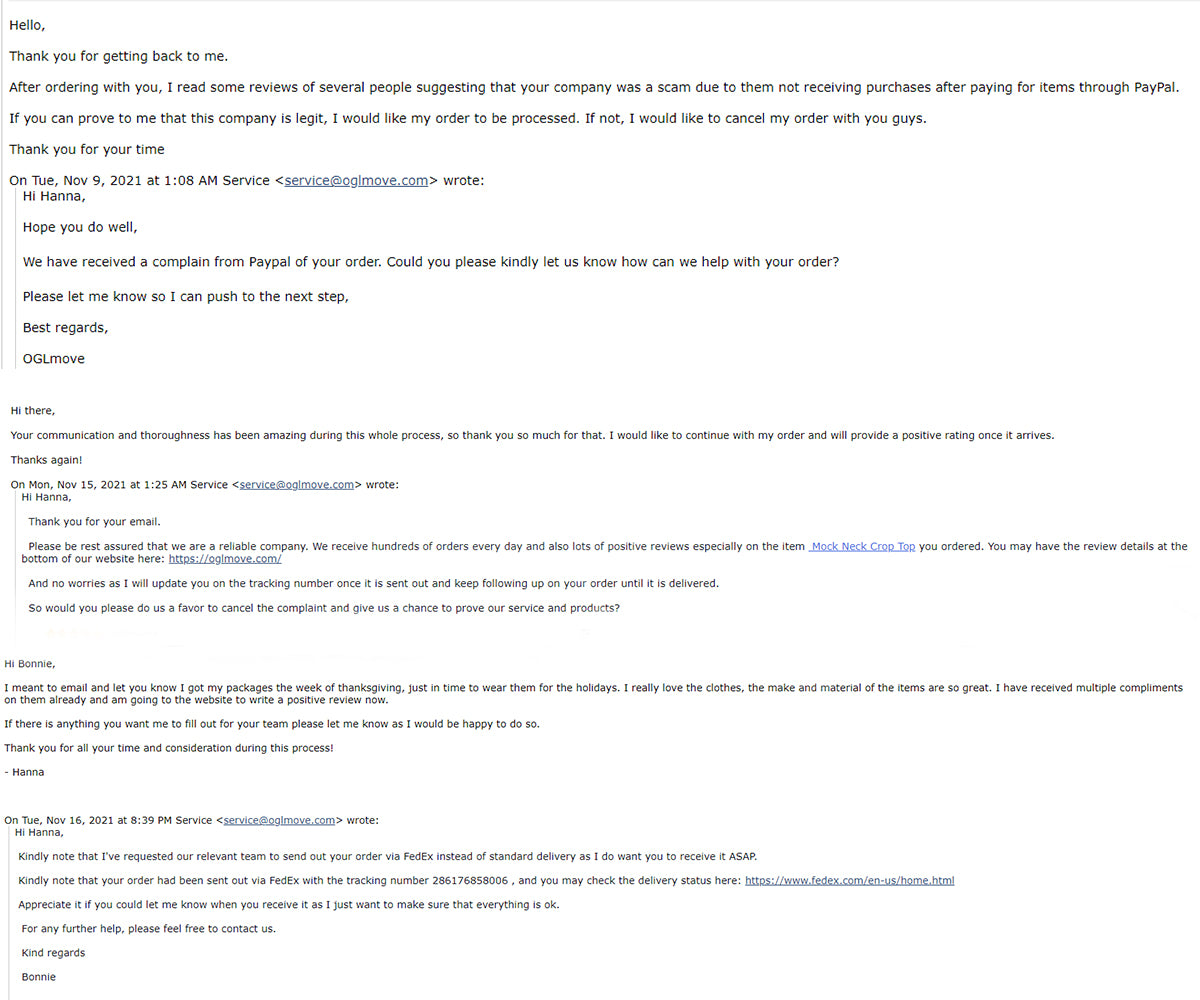 There are so much more incidents like this. Hereby, we want to thank Hanna and others who are willing to believe in us along the way. We are grateful to our customers for making us feel that love is always around us. OGL can not come to a success without the support of our customers. We will constantly look for ways in providing a better shopping experience for our customers, since the voice of customer and customer experience are always the most important part of ours.
Love to the Community
As a socially ethical company, we pay close attention to what's happening around us and always look to contribute to the community whenever they need us. On Dec 11th, an unexpected tornado has hit parts of United States. People have lost their home, wealth and lovers. We are sorry for the people who had to face this tragedy, and donated some supplies to the community. However, our help was very limited, therefore we contacted influential people on social media platforms to share information on how to help the community.
So far, we have received so many positive feedback from people who share the same value. We are grateful that we can work with those who share love to the community and let us feel love is all around us. We appreciate the support from the community and will constantly look for ways to give back to the community.
LOVE IS ACTUALLY ALL AROUND
Whenever we got gloomy with the state of the world, we think about the CORONAVIRUS. General opinion makes out that we live in a world of hatred and gree, but we don't see that. Seems to us that love is everywhere. Although it may not be vigorous, but it's always there. Fathers and sons, mothers and daughters, husbands and wives, boyfriends, girlfriends, old friends. When the virus kept harming us, but the phone calls made from people when they left were not about hate or revenge, they were all messages of love. If you look for it, you'll find that love actually is all around.
Dear OGL customers, let's love life and contribute to our beloved planet. Merry Christmas to you all.